Exploring Brussels with Kids
Brussels is an easy drive from our house, so it's a wonder it has taken us so long for a proper visit. We opted to drive down, which is actually a less expensive option than taking the train. Since we were in the car we stopped at Cook & Book for lunch before checking into the Train Hostel.
Train World, the Belgium train museum is next door to the Train Hostel and was high on our agenda. (In case you missed it my boys are train obsessed!)
Train World has a large collection of items, many displayed in unique ways. A room full of signals and signs has tracks laid under a clear acrylic floor so you can see how the switches work and track was laid.
The big boys were moving at different paces through the museum so we split up allowing each one to go at his own pace. Our middle little was transfixed by the videos.
The Big Little wanted to climb on as many trains as he could. There were so many you could climb or walk through. There is also a small kids play area that has a shaky bridge and a tilted train that appears to have crashed into a sandy pit. The middle little was too scared to check it out, but our big little loved running over the bridge.
Train World has an upstairs section as well. You can look down the rail lines into the old main station (Schaerbeek) where trains now go whizzing through. This little spot with benches was the perfect lookout spot or baby feeding spot.
There is a simulator up top that has you drive a futuristic flying train through a city. Our Big Little loved this game, which we could have easily walked right past. There is also a theater with a variety of train seats showing an advertisement for Belgium Railways. Our middle little loved trying out the seats.
Just before you exit there are a variety of trains to pose with and see up close. The boys now know all these train lines and were excited to see the trains they have ridden in a museum.
The boys have lots of opinions about their favorite train lines. Don't worry though they are quite loyal to the yellow and blue Dutch trains, and were annoyed there wasn't one in the museum. We left the museum as it was closing. You can spend two hours easily at Train World. There is a cafe near the entrance for a meal too.
We bundled up and hopped a train downtown to the light festival by the river. The directions to the festival were not great and we actually walked out of the way to get there. The light festival was fun though, with several displays and light shows.
We had dinner by sampling a bunch of food trucks that were at the event. The kids chose waffles and fries (Hey! When in Belgium!). Jeff and I had some amazing hot sandwiches.
The next morning we headed out early and drove into town, parking for free at the Brussels Air Museum.
This museum has a ton of stuff. The hangar though is basically outside and it was freezing. Jeff explored with the boys and I hung out inside. Honestly, I was a bit grumpy and not really into Belgium military history.
The boys however had a great time looking at planes, and loads of uniforms and swords. I was literally the only woman in the museum until a photography group entered. We spent about an hour at the museum.
We hopped on the metro and went into the city center. The main square is gorgeous and golden. There are a variety of chocolate shops to pop into as well. We like to pop in and each pick one chocolate to try and then pop into the next shop we see to repeat.
We walked down the street to see Jeanneke Pis. She is quite easy to find, despite being down an alleyway as there are tour groups waiting to cross the street.
Brussels is also home to the Smurfs and you can find this large statue outside the MOOF museum.
We popped into the Waffle Factory where we had the opportunity to compare and contrast the Belgium Waffle to the Liege Waffle (being held by my big little in the photo above.) Jeff also got a savory waffle, which is a sandwich inside a waffle. The conclusion was that it was all delicious. (The store may seem crowded but once you order head upstairs for ample seating.) The toilet passcode is on your receipt.
We were just across the street from Mannenken Pis, so we popped over to see what he was wearing. We didn't make it to the City Museum to see his collection of clothing, but I would love to do that on a future visit.
We walked a bit more popping into chocolate shops as we went, and finally sat down for lunch at Le Pain Quotidien, which is always a reliable option when we are traveling. We were at a large communal table and despite a morning of touring the boys were being cute as can be. We had a neighboring gentleman compliment them on their good behavior. (Amazing! ha!) After lunch we hopped the Metro back to our car, which we left at the free parking lot at the Brussels Air Museum in Parc du Cinquantenaire.
Our last stop was Atomium. What would we go see these days without the World's Fair? Atomium was built for the 1958 World's Fair and is still quite impressive. Sundays, parking in the park is free, so we found a spot and walked around the structure.
I originally thought we could just see it from the outside and be on our way, but once we were standing under it I had to go in. Jeff got in line to get tickets and we waited about 20 min to get through security and another 10 to hop on the small elevator that takes you to the top.
The elevator has a glass ceiling. It's amazing to watch the system pull the elevator to the top.
The views from the top are quite impressive. It was not a particularly clear day and we could easily see to downtown. We also got an amazing view of Mini Europe Brussels, which isn't open in the winter but looks like it is worth a return visit. Also visible was Oceade, an indoor waterpark.
The top ball is not very big and before you know it you're on your way back down in the elevator. Once at the bottom you can work your way through several of the other balls using escalators and stairs that run through the connecting tubes. There are a variety of exhibits in the balls.
We spent most of the time looking out the windows and enjoying the crazy lighting in the connecting tubes. (See our video of an escalator ride here.)
We had to head back home before dinner, so we headed right back to the car once we finished our visit. The kids thought the whole thing was quite fun. It's really so close to the house I'm sure we will be back for another quick weekend adventure.
If your looking for a few outings from Brussels check out our trip to Cook & Book and Babies with Backpacks day trip suggestions to Basstogne and Orval Abby.
[divider style='full']
This post is linked up with: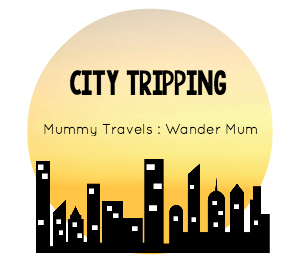 ---
---