Me & Mine Linkup – October 2015
I cannot believe it is time for another Me & Mine linkup. It seems like I was just searching for a family picture for September. I've been a bit more intentional about asking people to take family photos while we are traveling this month, knowing this deadline would be approaching.
Without further ado, here is October's family photo:
My husband celebrated his birthday this month, which unfortunately fell on a Monday he had to travel for work. We were able to arrange for the whole family to tag along the weekend before the work trip for a fun birthday weekend.
We went to Valkenburg. They have a replica of 14 of the Catacombs of Rome.  We took a candlelight tour with the kids. As the tour was ending we got someone to take our photo emerging from the caves.
This picture sums up the visit. H was most interested in the candle, which he had been forbidden to hold when lit and little O just wanted to play with his brother's flashlight. My always chivalrous husband is  even carrying the diaper bag in the picture.
Ah memories! Thanks for keeping me accountable on my monthly picture. I'm excited to give the rest of the Me & Mine Linkup a peek.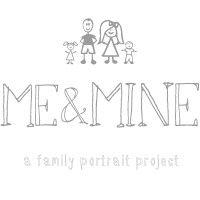 ---
---