A Day in Rovaniemi, Finland
One of the main reasons we wanted to book our own trip to Rovaniemi, as opposed to using a pre-packaged deal, was to have the freedom to explore the town of Rovaniemi. The pre-packaged tours tend to have everyone from their tour in one hotel or resort area and then move everyone to activities as a group. We prefer the freedom to move at the pace of our kids.
There is a closed group on Facebook called "Lapland Holiday Chat" which is a great place to start planning your trip to Lapland. There are lots of tips and tricks about who to book with and which property is best. Honestly though it was this discussion that steered us toward self booking. We love flexibility and it looked like those booking with tour companies had all the same problems. We chose to opt for our own set of problems, but that's what makes a trip unique and yours.
Arrival by Train
We arrived by train into the Rovaniemi train station. Due to a lack of readily available transportation options into the town at 7am we opted to walk. It was dark, cold and snowy, but the town is small. (If we had had the numbers to the two taxi services in town we could have arranged transportation before our train arrived. That is what I would recommend. You can find that information here.)
Where to Stay
We stayed at the Scandic Rovaniemi. The hotel is centrally located, which worked out wonderfully for our exploration of town. The hotel is currently undergoing a renovation. Our room was a bit dated, but we stayed in a room that had not yet been "refreshed." The staff was easy to work with. We were able to check into our room at 8am when our train arrived in town, giving everyone some needed downtime.
The room had plenty of closet space, which was nice since we were in and out of our winter gear every time we came into the room.
The hotel also has a small play area in the bar (a bit weird) area of the hotel. This entertained our kids to no end, and with plenty of seating was a great option for burning some time or getting our plan for the day together. This area does become crowded as groups wait for a bus pickup, but we found it empty most of the time.
The breakfast buffet at the Scandic was great. There were plenty of options. We noticed that a bus load of guests from the Raddison Blu arrived most mornings for breakfast so we tried to avoid the rush.
The hotel had sleds by the front door that we took full advantage of. We had the stroller with us from our earlier foray into Helsinki and Tallinn, but it would have been no use to us here. The sleds were much more practical to drag the kids around town.
Where to Eat
We had a hard time finding food options online before the trip. Once we arrived though we found Rovaniemi to have lots of options. You should call for reservations at any place you plan to eat as many of the places are small. We got lucky a few times since we tend to eat earlier than most.
We arrived on a Sunday, so nothing was open until noon. This made breakfast a bit difficult. We ended up just paying for an extra breakfast at the hotel.
Roka is a little place serving up delicious food. We rolled in without a reservation and were lucky to grab four seats at the window. They have a bistro and street food menu, that both looked delicious. I ordered a sandwich off the street food menu and was not disappointed. Our kids can be light eaters in the evening, so two entrees and a side fed the four of us.
Wingston has a really casual atmosphere. We found several other families in there. They even have a little play area in the back. (When you call for a reservation ask to sit by the play area if you have kids.) The menu is varied but we split some wings and fries. The kids split the chicken fingers and loved them so much we ended up needing to order more.
Picnic is a Finnish quick service chain. There is a location in the mall in Rovaniemi. Jeff ran over and picked up food to go one afternoon when our schedules were messed up due to late night excursions. They make everything there and the ingredients were incredibly fresh given our location. They are more of a lunch place, so they close early. We were their last customers the day Jeff picked up our dinner.
Coffee House Rovaniemi is a really fun coffee house. We hit Coffee House up for some desert before our train back to Helsinki. They had a large variety of cakes and ice creams. Coffee House is open most of the day, and quite late into the evening, so it is a good option if you're looking for somewhere to pop into to stay warm.  There is an adjoining Italian Restaurant that looked crowded, but we didn't try it.
Choco Deli has hours we just kept missing. I popped in there to vet it for an afternoon treat and it looked amazing. Unfortunately, by the time we were back it was closed. I would highly recommend this place for a mid-day treat. It's quite cozy.
What to Do
When you're not out on tours there is plenty in Rovaniemi to keep you entertained. We walked around town pulling the kids in the sleds, which they loved. We stopped at any hill we could find and let them ride the sleds down over and over. (You can watch a video of our sledding fun here.)
Arktikum is the natural science museum in Rovaniemi and it is surprisingly child friendly. Ask at reception for a scavenger hunt that will keep your kids entertained throughout the museum. At the end of our visit, each child received a polar bear key chain for participating. They were over the moon.
There are several hands-on exhibitions in addition to a kids area that focuses on Arctic animals.
There is a small theater where you lay down and watch a video of the northern lights overhead. A magnetic wall full of animals to move into the right habitat was also a hit. A whole room that is a restaurant with Arctic foods set out was fun with plenty of displays to touch and watch. The kids were so entertained.
A section of the museum focuses on natural resources and protecting the environment. Jeff and our big little spent a full twenty minutes building an oil pipeline out of blocks and then watching the oil (balls) roll down it.
The building itself features a large glass domed ceiling that provides lovely views of the landscape. The day we visited it was so cold outside that the air was actually sparkling.
We all enjoyed standing in the window and watching the snow fall. There is another larger theater that shows a slide show of photos from the area. The kids actually really enjoyed all the photos, but Jeff and I kept waiting for the narration to start.
PILKE across the street is the science museum and focuses on forestry. The kids could have played here all day. There were so many fun activities packed into this one space.
PILKE has a really fun train table which my children adored, they also have some logging trucks. They were clearing fallen wood off the tracks and sending it to the building site.
There is a large logging truck to climb on. I'm not going to lie, we all really loved this thing.
Combined with a few hard hats and some other logging play toys we had a whole worksite going.
The boys are very into pretend these days, so this was a dream come true. Who wouldn't want to be part of the forest service for a day!
The best play space was the 200 cardboard boxes available to play with. The kids built forts and furniture. They built walls and ran into them over and over. It was such fun.
There was a karaoke corner. I have no idea what that has to do with forestry, but the kids loved it. We knew none of the songs and couldn't read the Finnish words. The only downside was the combo of the slanted floor with the microphone cords kept tripping up our middle little. They loved hearing their voices over the speakers.
There were plenty of other games and fun things to do. A sensory forest to walk through, boxes to scan and even a variety of toilet paper to touch.  We shut the place down!
Additionally we walked past a number of playgrounds, but it was just too cold to play on them. We bundled up and were fine walking from place to place, but didn't ever want to linger outside longer than necessary, particularly once the sun had set.
Our down time in Rovaniemi was some of our favorite of the trip. I highly recommend checking out what the town has to offer. I'm sure we missed some good restaurants and experiences.
[divider style='full']
This post is linked up with: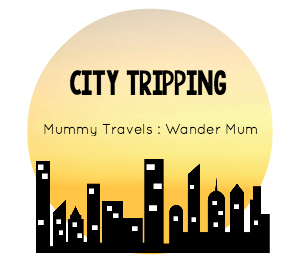 ---
---